Nuvei Financial Stats
$35 billion Annual Total Volume
450 Payments methods
~150 currencies
200+ Global markets
71% eCommerce Volume
50,000+ customers
The Nuvei Business
Nuvei is an electronic payment processing company, offering 450 alternative payment methods through its gateway. Offerings include end-to-end payment acceptance solutions, streamlined payouts, foreign exchange services, risk management, and value-added business services. Through Nuvei, as a single platform provider, clients and merchants can easily connect and transact in over 150 currencies worldwide. Services are currently offered in North America, Europe, Asia Pacific, and Latin America. The platform built is highly focused on high-growth mobile commerce and eCommerce markets. The company operates with a 17-year operating history and expects to see benefits from sales growth and strong retention within regulated online gaming/sports betting, regulated FX trading, social gaming, and online marketplaces.
Industry
As per eMarketer, mobile commerce and eCommerce purchase volume is expected to reach $6.3 trillion globally to 2024, up from $3.4 trillion in 2019. Nuvei is designed to support the entire lifecycle of a transaction across mobile or in-app, online, unattended, and in-store channels.
Customers
The merchants served by Nuvei generated $35.3 billion in annual total volume for the trailing twelve-month period ending June 30, 2020, with mobile commerce and eCommerce volume contributing 71% of total volume. The table below lists select merchants currently served by Nuvei within selected high-growth end-markets, as well as the expected size of total addressable market ("TAM") in terms of sales and related CAGR for each of these: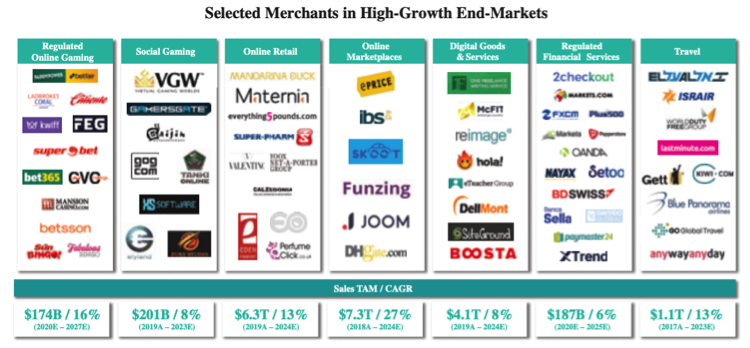 Source: Nuvei Prospectus
The table below lists some of the 450 Alternative Payment Methods accepted by Nuvei's Global Gateway: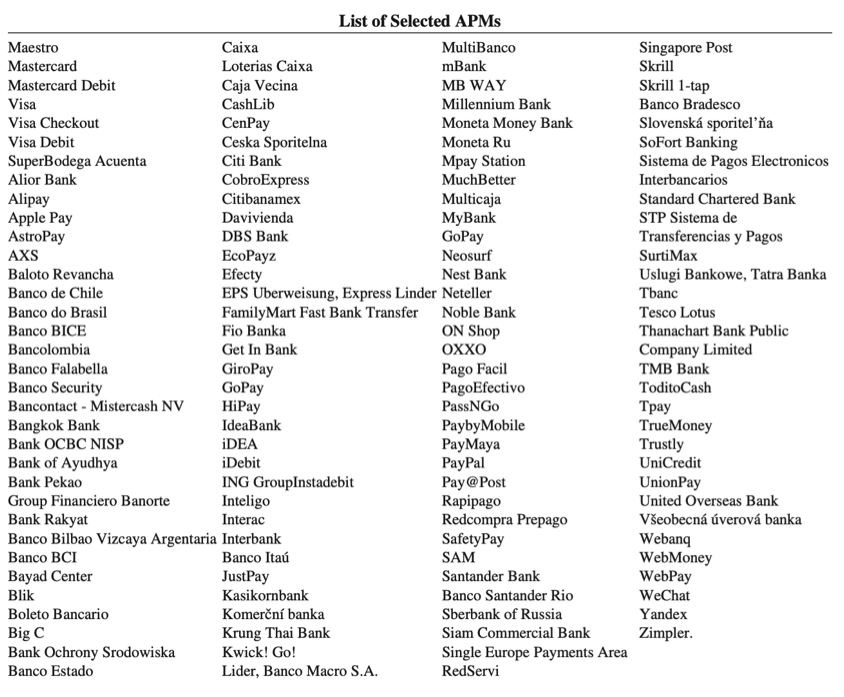 Source: Nuvei Prospectus
Revenue is primarily sales volume and transaction-based, generated from merchants' daily sales and through various fees for value-added services. In addition, Nuvei also generates subscription revenue from business intelligence tools, merchant dashboards, and other solutions for which a flat fee is charged on a monthly basis. As a result, revenue is largely recurring in nature. For fiscal 2019, Nuvei generated revenue of $245.8 million, a net loss of $69.5 million, and adj. EBITDA of $87.2 million. Including the SafeCharge Transaction on January 1, 2019, the pro forma Adj. revenue would have been $311.8 million, and pro forma adj. EBITDA of $111.6 million.
Financials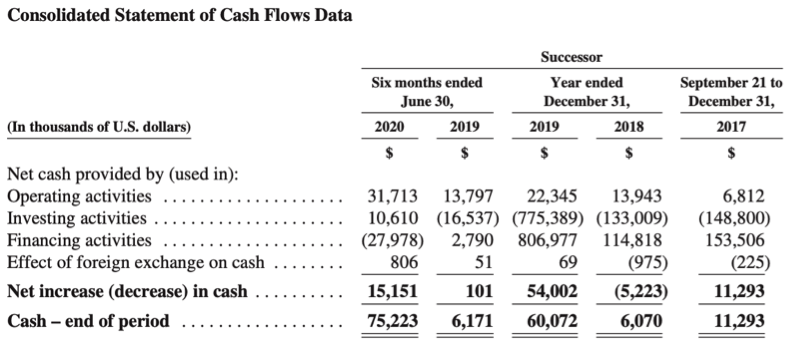 Nuvei has shown good growth in operating cash flow over time, more so helped by the recent SafeCharge acquisition. The company has been adding to its cash balance over time. In December 2019, Nuvei's shareholders helped it raise $270 million in equity.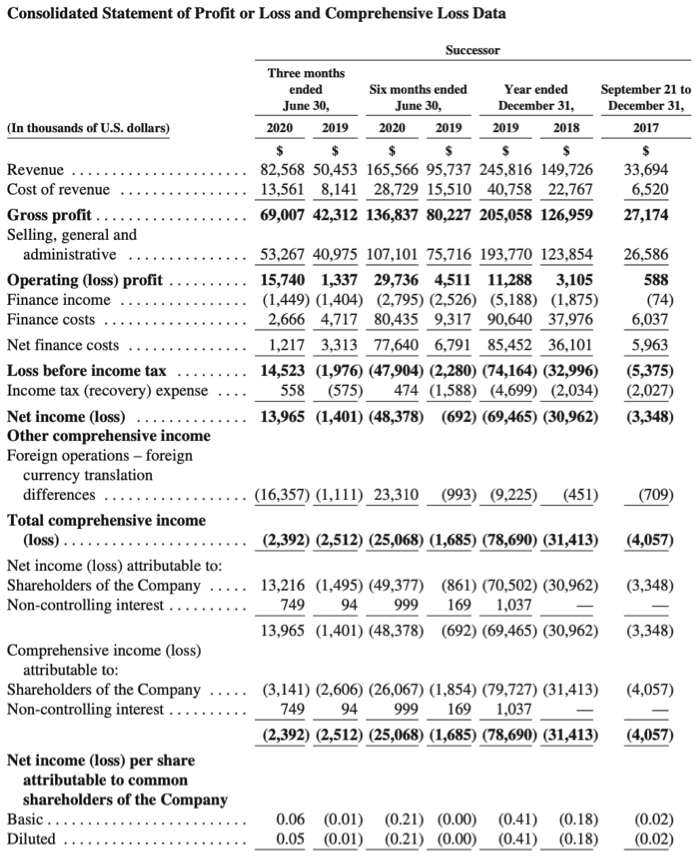 One thing of note here is that despite 17 years of operations, Nuvei is producing a net loss. If we look further into it, we see two problem areas: Selling, general, and administrative (SG&A) expenses and finance costs. Nuvei operates in a structured ecosystem and, hence, its SG&A primarily consists of amounts associated with commissions, depreciation, and employee compensation. Commissions are incentives paid to third party agents for referring merchants. The margins would be something to focus on going forward.

Why IPO?
As it can be seen in the table below, costs related to interest and debt are eating into company profits. The company is backed by Caisse, to which, as of August 31, 2020, Nuvei owes an aggregate principal amount and accrued interest totaling $119,633,011.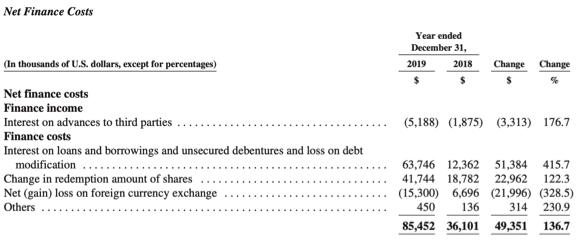 The IPO proceeds will be used to pay down debt.
Adding to this, with increased interest in the ecommerce and digital payment space as well as some successful recent tech IPOs in Canada, the company more than likely views this as an opportune time to go public.
Management
Chief Executive Officer Philip Fayer leads the management team, who founded the company in 2003. In September 2017, Nuvei partnered with Novacap and Caisse to accelerate growth and was subsequently acquired. In 2018 and 2019, Nuvei acquired Matrix Payment Systems, a leading payment services provider in the B2B and business-to-government channels, Vantage Payments, offering strategic payment solutions for large volume and hard-to-place merchant types, and LoanPaymentPro, a technology payments firm specializing in the consumer lending industries. Since then, Nuvei has acquired two highly accretive firms: SafeCharge and Smart2Pay.
Valuation
As mentioned before, Nuvei completed a US$270 million (CA$358 million) common equity financing back in December 2019. This valued the company at about US$2 billion (CA$2.65 billion). Given that it operates in two hot areas: gambling and payments, we expect the market to be highly receptive to the IPO. The founder has been with the company since the beginning, and the company has expanded globally. Nuvei has filed for an IPO to raise about $500 million to $600 million. With the overall success of tech IPOs, we expect investors to seek the name for growth rather than valuation.
Happy Investing!
Disclosure: Please note that the author does not hold a financial or other interest in stocks or funds mentioned at the time of publishing.