5i Research is proud to support financial literacy across Canada by hosting the...
5i Research Stock Simulation Scholarship Competition
Why A Stock Simulator?
At 5i Research, we truly believe that one of the keys to independence and a healthy retirement is financial literacy. Understanding the importance of saving and investing over the long-term can bring substantial personal and financial rewards over time while offering a fun and fulfilling journey.
Unfortunately, with younger individuals not thinking about events potentially 50 years down the road, investing and saving at a young age often gets sidelined. This could not be a bigger mistake! The younger an individual begins saving and taking their finances into their own hands, the better chance of success they have down the road.
We want to encourage younger generations to start thinking about saving and investing now, and show that investing can be fulfilling, challenging and fun all at once. The best way to learn is often by doing, and this stock simulator is a great, risk-free way to start learning about investing, while also potentially winning a scholarship reward!
$10,000 Worth of Awards Available!
Those who have joined the competition have three months to construct and trade a portfolio. At the close of the competition, the top 15 ranked portfolios are invited to submit a report (900 words max.) outlining their strategy, from which the top four reports will be selected, with a chance to be awarded with scholarships amounting to $3500 (1), $2500 (1) or $2000 (2)!
Eligibility
To participate, you must:
be in your final year of high school or CEGEP in Canada
plan to enroll full-time in an undergraduate degree or diploma program at a Canadian university or college in Fall 2017
be a Canadian citizen or permanent resident
sign up for the Investopedia simulator
sign up for your free trial membership to 5i Research
How Do I Sign Up?
1) Visit Investopedia at www.investopedia.com and select Stock Simulator.

2) Follow the steps on the page to create a Stock Simulator account.
3) Once your account is created, click on the Stock Simulator tab at the top of the page again. This will prompt you to Join A Game.
4) Under "Join A Public Game", click "View More Games".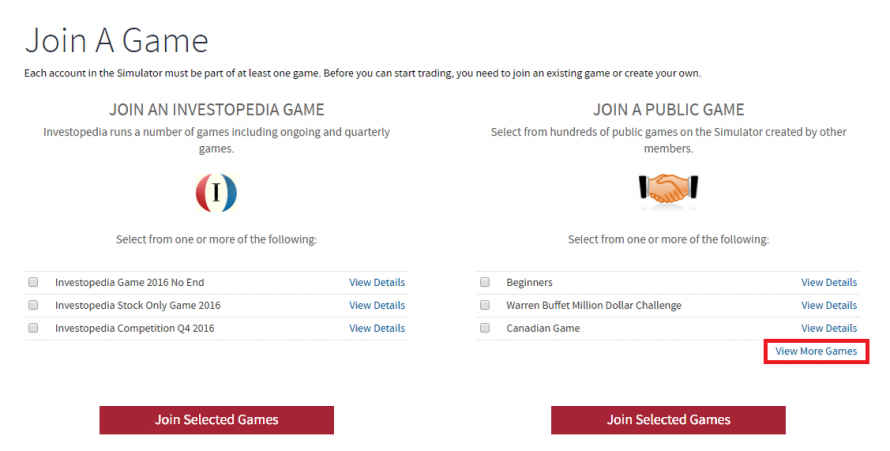 5) Search for the 5i Research / WLU game by entering "5iRWLU" and selecting "ANY" currency. Once you find the correct game, click "Join".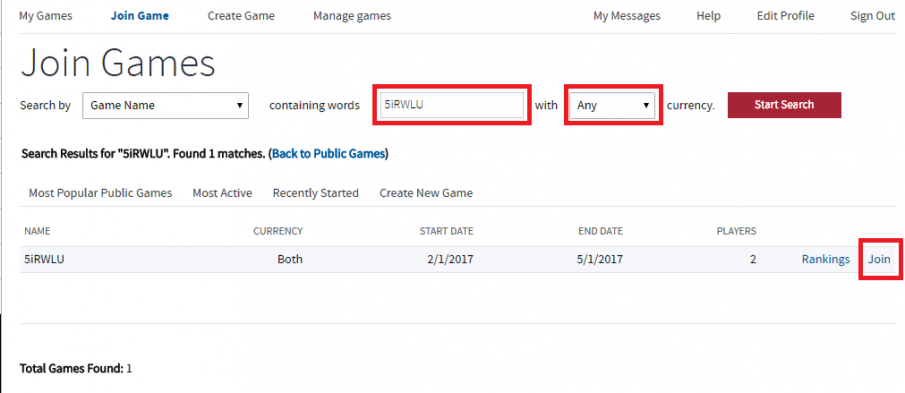 6) Join the game by entering the password "5iComp".
You are now signed up for the Stock Simulation! Make sure you only sign up once for this simulation. Applicants with more than one portfolio will be disqualified.
Next you need to register for your free 5i Research membership.
7) To register for your free 5i Research trial membership, click on the following link: https://www.5iresearch.ca/index.php?p=qt_redeem_code.NewAccount&code=comp
8) Follow the prompts to create a new account. Make sure you use the same email address that you used when signing up for your Investopedia account.
Now that you are signed up for both Investopedia and 5i Research, you are ready to begin trading!
Competition Timeline
To participate in this simulation, you must be registered no later than JANUARY 15, 2017.
The simulation will run from JANUARY 16, 2017 until APRIL 17, 2017.
The top 15 participants who will be selected to submit reports outlining their strategy will be notified by April 24, 2017.
Scholarship recipients will be announced on or around June 2, 2017.
Resources
Feel free to utilize resources such as our reports and question and answer database to help with your portfolio.
You are also welcome to search the Canadian MoneySaver archives with this free code: StockComp Just follow this link to sign up free for a one-year digital subscription and get free personal finance content to help with your investing journey.
Finally, we encourage you to use the stock competition forums to get answers to your questions from peers! (please refrain from giving out any personal information on the forums)
For further details, terms and conditions, please click here.
***Please note, no money or payments are required to participate in this simulator and nothing on the 5i Research website or through the simulation excercise should be viewed as a recommendation to purchase securities with real money.***