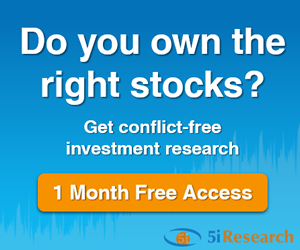 5i Report
MAY 17, 2017 - Manufacturer of optical instruments benefitting from the tailwinds of a growing semi-conductor industry. Good growth and a strong balance sheet have led to us initiating coverage at a 'B-' rating.
Download Report

5i Recent Questions
Q: In my last question I had asked you to rank the above companies with respect to risk.
"We would rank these: GSY, COV, NFI, PHO."
The order of the list was not clear to me, since it was a little different than I expected.
Is GSY the lowest or highest long term risk?
I'm including the rating and stability from the flash report for my benefit.
GSY: B+, medium
COV: B, low
NFI: A-, medium
PHO: B-, low

Cheers.
Read Answer
Asked by Mike on December 11, 2018
Q: Thinking of selling a portion of holdings the above to buy XQQ.
Some are in my cash accounts and the in my RRSP.
The tax loss and gain is zero in my cash accounts.
Gain a bit of D/E and get US exposure.
Thoughts

Thank you

Mike


Read Answer
Asked by Mike on December 11, 2018
Q: Do you think there is any value for this free Semi letter?
I'm thinking it may help for timing names like PHO. Sell when things are booming & buy when there are no new orders?
http://www1.semi.org/en/worldwide-semiconductor-equipment-billings-drop-158-billion-third-quarter-2018-semi-reports
https://blog.semi.org/business-markets/critical-subsystems-orders-fall-off-a-cliff
Read Answer
Asked by Joe on December 12, 2018