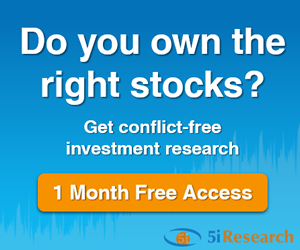 5i Report
MAY 17, 2017 - Manufacturer of optical instruments benefitting from the tailwinds of a growing semi-conductor industry. Good growth and a strong balance sheet have led to us initiating coverage at a 'B-' rating.
Download Report

5i Recent Questions
Q: In my TFSA my strategy was to anchor this portfolio with blue chip positions which had worked to achieve my initial goal of making a steady foothold in the market. I then decided to add a few growth positions to see if I could improve the return on the portfolio. The only one in positive territory is PHO up 10%, do you think as a strategy this has the potential to work or not,also do you feel that ECN & TGSI have the potential to thrive in the future I'm down 10% on ECN & 36% on TGSI. I do not intend to draw down from this TFSA so I can wait. I know the answer on RHT
Read Answer
Asked by Thomas on October 17, 2018
Q: Not sure if readers are aware, but it looks like Photon bought #650,000 of their own shares during September with their abundance of cash. Also, Mawer New Canada increased their position to over 4% of the company. Can you comment about these 2 developments?
Read Answer
Asked by Cory on October 16, 2018
Q: Please comment on the update on new products today.Thanks for u usual great services & advices
Read Answer
Asked by Peter on October 12, 2018