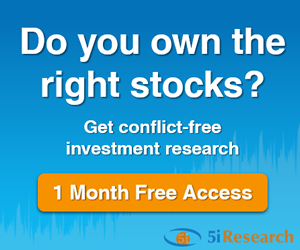 5i Recent Questions
Q: Hello,

With the recent positive earnings from Facebook and ServiceNow, would you recommend buying at this point? I'm also a long time holder of Visa (stock is down based on yesterdays results), would it also be a good idea to purchase MA at this time as well?

Thanks,
Raj
Read Answer
Asked by Neeraj on February 04, 2019
Q: Hi 5i! I'm a middle-aged subscriber that has picked up some of the 5i researched companies - most recently Kinaxis and BNS. I'm slightly overweight Kinaxis and Shopify since I see them as potential growth engines. KXS, TOY, NVDA, SHOP, FB, and BNS are all in my non-reg account. If I need cash this year for personal projects, which companies might you recommend I start selling? Thanks!
Read Answer
Asked by Marc on January 18, 2019
Q: Which of these three companies are preferred going forward for 2019? Should we hold all?
Read Answer
Asked by Greg on January 03, 2019